Doug Greenwold's latest book, Becoming a Judean Shepherd, derives from Doug's consuming passion for the historic and cultural context of scripture combined with his impressive ability to tell a story. Within these pages he reveals the relevance of all those sheep and shepherd references in both the Old and New Testaments. Now the difference between sheep and goats becomes apparent, as does how a rod and staff can provide comfort and how still water means life itself to the flock.  Psalm 23 will never read the same again. After reading, don't be surprised if you wind up feeling a little …well …"sheepish", yourself.
Doug has given us permission to offer this download of the PDF version of the book at no charge and encourages you to read it and then pass it on. Simply right-click on the image below to open the book on your screen and then "save link as" to the location of your preference on your computer. A single left-click will open the book in your browser if you prefer to read it right here. If your computer is not equipped to read PDF files, download the Adobe Reader software by clicking here …it's safe, simple to use, and absolutely free.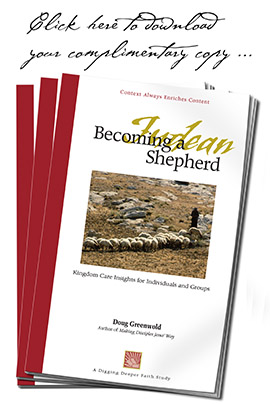 We also have a limited number of hard copy editions, also available at no charge. To order your printed copy, please email us at brokenroadradio@charter.net requesting a copy and providing us with your mailing address. We'll send you the book postage paid (a post office box address is just fine, too) …limit 2 copies per request, please. Available only while supplies last.